Toshiba Thermal Barcode Printers
DBS Is San Diego's Leading Toshiba Thermal Transfer & Direct Thermal Barcode Printer Dealer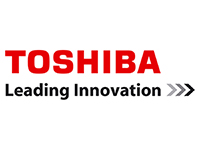 Toshiba is the performance leader in thermal barcode printers.
Toshiba thermal barcode printers are the perfect solution for your business-critical labeling applications. From receipts to tags, barcode shipping labels to specialize custom labels, our printers have become the leading choice across the world for professional, in-house labeling.
Performance You've Come to Expect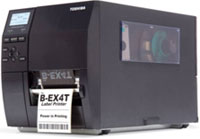 Toshiba's wealth of experience leads to innovative products that are backed by our local service. You get outstanding products with exceptional user benefits and Toshiba brand reliability.
Industries & Applications
Industrial/Manufacturing: product, carton, pallet, process tracking labels
Transportation/Logistics: shipping, route sorting, bin labels
Retail (In-Store and DCs): shelf marking, price tag/label, markdown label
Healthcare: wristband, specimen, prescription bottle labels
Commercial Service: event ticket, receipt, inspection label/tag
Other: asset label, compliance label, mobile/remote label/tag platform allows software solutions to be integrated with Toshiba systems so you can increase productivity and better manage your workflow
We also carry the full line of Zebra barcode printers.
Contact us for a quote or to learn more about Toshiba thermal barcode printers
| Series | Class | Max Label Width | Resolution (dpi) | Max Speed (IPS) | Ribbon Length (M) | Connectivity |
| --- | --- | --- | --- | --- | --- | --- |
| B-EP | Mobile/Portable | 2" & 4" | 200 | 4 | n/a | IrDA, USB, Bluetooth, Wireless, Serial |
| DB-EA4D | Entry Level | 4" | 200 | 6 | n/a | USB, Ethernet, Parallel |
| B-EV4 | Entry Level | 4" | 200 & 300 | 5 | 0 & 110 | USB, Ethernet, Serial, Parallel |
| B-FV4 | Entry Level | 4" | 200 & 300 | 6 | 0 & 300 | USB, Ethernet, Serial, Parallel |
| B-SA4 | Entry Level | 4" | 200 & 300 | 4 | 450 | USB, Ethernet, Parallel |
| B-852 | Entry Level | 8" | 300 & 600 | 4 | 300 | Serial, USB, Ethernet, Parallel |
| B-EX4T2 | Mid-Range | 4" | 200, 300 & 600 | 12 | 600 | USB, Ethernet |
| SX5/6/8 | High Volume | 5", 6" & 8" | 300 | 12 | 300 & 600 | Serial, Parallel, USB, Ethernet |
| B-EX4T1 | High Volume | 4" | 200 & 300 | 14 | 800 | USB, Ethernet |