PrintReleaf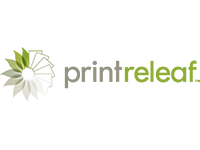 Releaf your forest consumption where the planet needs it most
PrintReleaf empowers businesses to certifiably reduce the environmental impact of using forest products by automatically planting trees across a global network of reforestation projects.
How Does PrintReleaf Work?
Paper - PrintReleaf integrates with your company's existing print software to measure your paper consumption in realtime
Platform - PrintReleaf Exchange reverse-calculates how many trees were deforested to harvest your forest footprint
Trees - Your forest footprint is automatically reforested at global reforestation projects of your choice
What PrintReleaf Can Do For You?
Measure your footprint - Measure your forest footprint and forest impact over time. Paper consumption data is automatically updated and converted to trees using the PrintReleaf Standard.
Choose your projects - Explore our network of global reforestation projects and browse project profiles. Select your favorite projects, and your footprint will automatically be releafed at those locations.
Transparent verification - Track the progress of your trees from planting to verified survival over an 8-year period. This process is administered by SGS, a leading international forestry auditor, to guarantee the survival of trees planted by our reforestation partners.
Contact us to learn more about our document imaging solution and to request a consultation