Education Office Equipment & Workflow Automation
Your Source for Office Equipment, Award-Winning Support & How to Work More Productively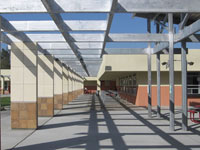 DBS has served San Diego K-12 school districts, community colleges and universities since 1973. Superintendents, business managers and staff members appreciate our office equipment and copier expertise and also how we support them with award-winning service and unlimited training.
Office Equipment
DBS is the leading Toshiba and Oki copier dealer in San Diego, and we also represent Lexmark and HP. We will help you identify the best fit in terms of hardware and maintenance.
We also offer unlimited training to ensure that all your staff members and volunteers know how to print, scan, copy, and fax on your equipment. We often provide training 3-4 times per year to large groups, though we can tailor whatever training to meet your needs in terms of training scope, frequency, group size, etc.
Workflow Automation
Invoice processing, hiring and credentialing are just some of the processes that can be streamlined with workflow automation and document management software, such as SmartSearch from Square 9. Simply eliminating the need to file invoices can save hundreds of hours of productivity every year for a school.
SmartSearch workflow automation software ensures:
Every step in the process is followed, every time
All documents are captured and automated alerts sent out if something is missing
All documents are automatically routed to the right staff member for processing
Vendors, applicants and others are alerted if something needs to be corrected
Documents and data can be exported, converted to PDF and emailed
Documents can be instantly found later from any device by staff members and auditors
Integration
Our content management experts will workflow and document management it with your school administration software (e.g. Rediker, Fedena, Active Network, etc.), so that invoices, employee files, student records, and all other electronic documents can be viewed within your current software.
Complimentary Consultation
It all starts with a conversation to understand your current office equipment, support and workflow automation needs. It's both easier and more cost-effective than you think and can result in a competitive advantage for your company if you act soon.
Contact us to learn more about mortgage workflow automation and e-forms today